Classes
Advanced Youth
The Advanced Youth class is for those with a rank of orange belt and above. This is a fast paced class where a variety of material is drilled repeatedly. The class tends to be higher paced with the expectation being that students train up to the level of the class.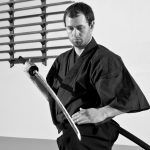 Sensei Chris Peterson
Sensei Peterson has over 20 years experience in Shoshin Ryu martial arts and specializes in Newaza.