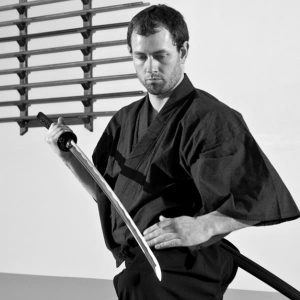 Chris began his martial career in 1999, training Shoshin Ryu under Jesse Bair. The training and philosophy of the martial arts was immediately appealing to Chris.
He enjoys sharing his passion for martial arts with students of all ages and abilities and is grateful for the opportunity to train with many talented martial artists, both within and outside of Shoshin Ryu.
Chris has a bachelor's degree in Philosophy from Boise State University and continues to study the likes of Takuan, Munenori, Musashi, and Tesshu. He firmly believes that it is not one's natural talents and abilities that determine success in martial arts, but rather one's persistence and commitment to consistent training.
Chris currently holds the rank of sandan in Shoshin Ryu and is a former member of the Shoshin Ryu Executive Board.