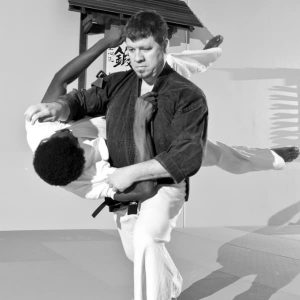 Jesse began attending Kokondo martial arts classes in 1989 in Moscow Idaho, earning his shodan in Kokondo before joining Shoshin in the mid 1990's. Jesse attended the first Shoshin Ryu National seminar in Williamantic CT in 1993 and again in 1995 in Los Alamos NM. In 1999 he started teaching in Boise and opened a small dojo in a racquetball court in the apartment complex he lived in. After the class grew, the dojo moved to a few more locations before opening the dojo in 2011 with Peterson sensei.
As a sensei in Shoshin Ryu, Jesse enjoys working with people from all the different dojo to share ideas and learn. His areas of strength include nage waza, knife defense and tactical use and traditional kata training. In addition to teaching local classes, Jesse serves on the Shoshin Executive Board of Directors and will be succeeding sensei Brian Combo as Senior Most Student at the 2021 National Seminar.
Jesse has worked at the semiconductor manufacturer Micron Technology since 1994 and is currently an Engineering Manager in the Dry Etch Department of the R&D division of the company headquartered in Boise Idaho.